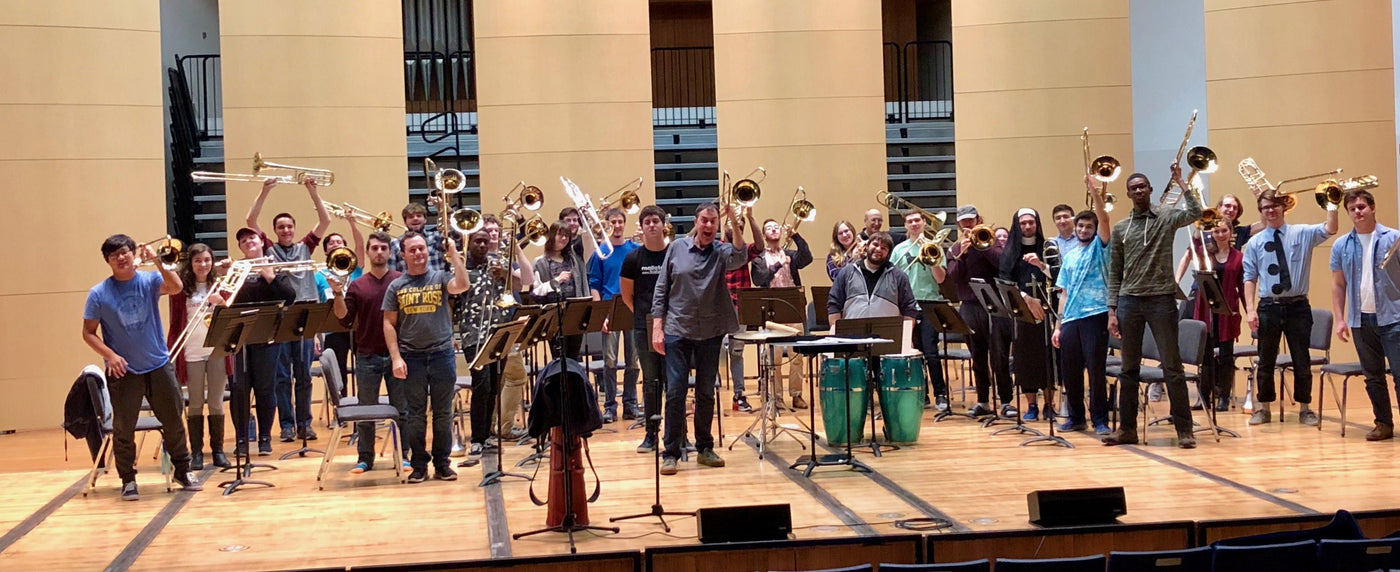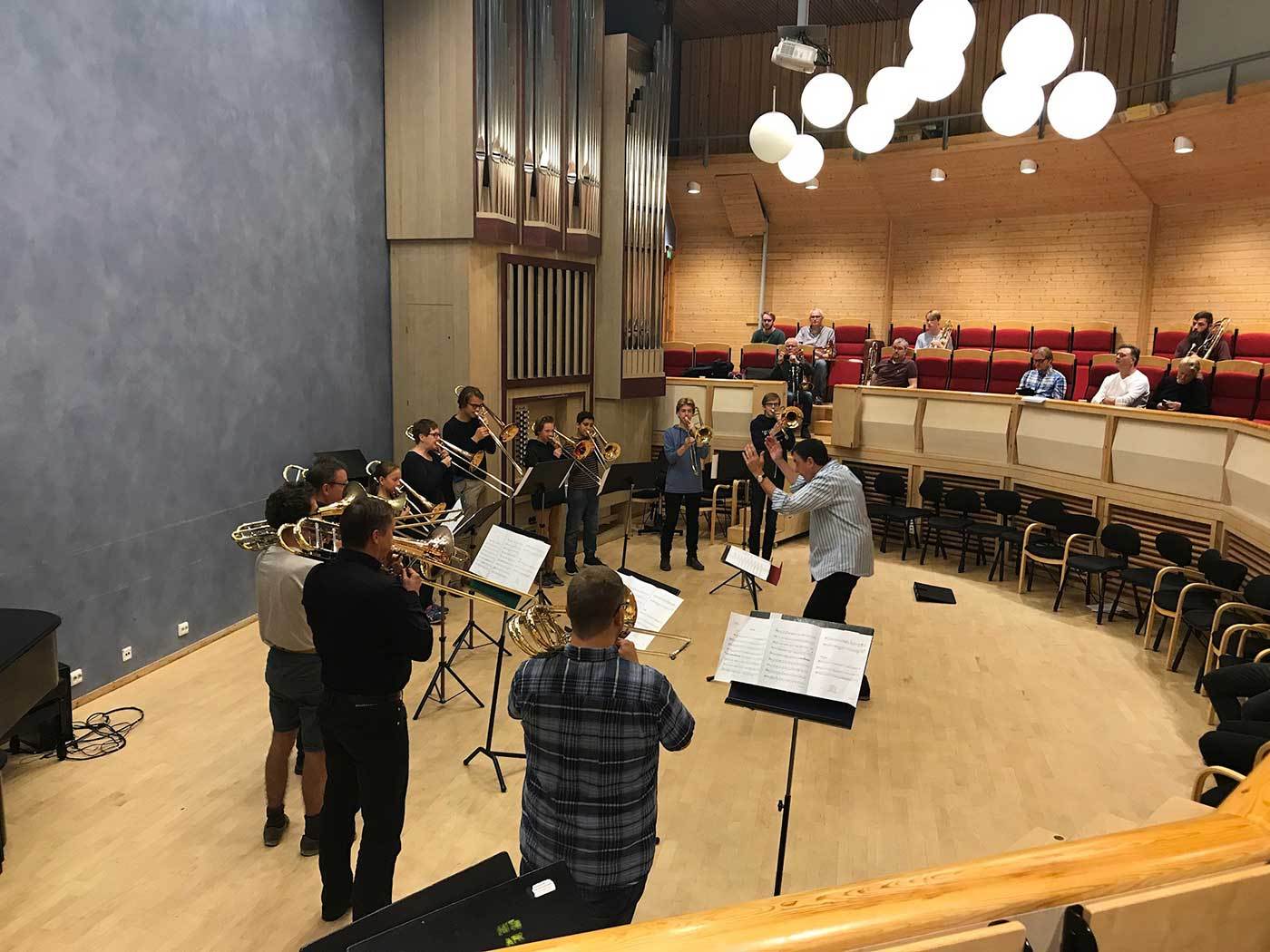 Guest Artist Clinics
As experienced in the classroom as he is on the concert stage, Michael Davis has forged a reputation as a dynamic, inventive and charismatic educator. His many appearances as a clinician have taken him around the world and included workshops in Japan, South America, Europe, Australia and the United States. As comfortable working with middle school beginners as he is lecturing to doctoral candidates at a major conservatory, Michael's passion for music is infectious. He seeks to instill an inspired excitement for music in everyone he works with.
Michael will custom design a clinic or workshop that covers the topics you and your students desire most. His clinics include a significant amount of group participation both in sharing of ideas and practical application of performance tips. Your students are given a fresh sense of direction that will carry on long after the workshop and concert have concluded.
Frequently requested clinic topics include:
— Trombone Masterclass
— Brass Fundamentals
— Improvisation
— Big Band Workshop
— Small Group Performance
— Entrepeneurship in Music
— The Music Business
— A Musician's Life
Contact Michael today for your upcoming festival or concert: email or call 917.693.4495.
What leading educators are saying about Michael's clinics:
Michael's presentation at the University of North Texas was simply amazing. He's a virtuoso player who demonstrated his unique approach to solving musical problems.
Neil Slater
Director, One O'Clock Lab Band, University of North Texas
One of the greatest masterclasses we have had at our shop. Michael's way of practicing with his unique books and the style of performance fascinated the audiences. We are longing for Michael's next appearance in Japan!
Takahide Igisu
Dolce Musical Instruments, Osaka, Japan
Michael is a professional through and through. His visits here are so inspiring, and for some, life-changing. We've had him here twice and will have him back again!
Sean Lowery
Director of Instrumental Music, Schalmont High School Schenectady, New York
Michael Davis is not only a superb trombone player, but a brilliant teacher and coach as well. He has the great ability to translate his innovative musical ideas into understandable and constructive material for students of every level. His ideas are supported and illustrated in his perfectly written books, giving the student a road map to success. His wonderful arrangements can be used by players of all levels and are very rewarding. A workshop by Michael Davis gives your students the support and information they need to become inspired, accomplished musicians.
Ilja Reijngoud
Professor of Jazz Studies, Rotterdam Conservatory of Music, Rotterdam, Holland
In my positions with the Crescent School and the Park City Jazz Foundation I have the opportunity to bring in top-caliber jazz clinicians on a frequent basis. It is important to me that they be outstanding musicians, educators, and role models. Recently, Michael Davis worked with our students and proved to be all of the above. His stories of real world performance experience captivated our younger students, and his impeccable technique and compositions inspired the more advanced student musicians. In his clinic, his instructional materials and personality connected him with the students in a way few clinicians accomplish. We can't wait to have him back and have already invited him to appear at our next jazz festival! His studio recordings, compositions, performance skill, and abilities as a clinician make him a unique commodity in today's jazz scene.
Caleb Chapman
Executive Director, Crescent School of Music, Salt Lake City
Education Director, Park City Jazz Foundation, Park City, UT
Michael Davis is one of those rare individuals who can do it all and is still approachable. His playing and writing are both brilliant, while his knowledge of the music business and "gig sense" is extensive. Both his performances and clinics are superb. Mike is without a doubt one of the best guest artists I've ever had the pleasure of bringing to Duquesne University.
Mike Tomaro
Director of Jazz Studies, Duquesne University, Pittsburgh, PA
Michael's work at our 2004 Jazz Festival was superb. His performing, composing and teaching were an inspiration to all of our students. Michael provided all of us with the perfect example of what it means to be a complete professional.
Doug Beach
Director of Jazz Studies, Elmhurst College, Elmhurst, IL
I can honestly say that few events have changed the way the trombone can be taught more than the development of Hip-Bone Music. We owe Michael Davis a considerable debt of gratitude for his efforts on behalf of our instrument. From the simplicity of the "15-Minute Warm Up Routine" to the remarkable beauty of his various ensemble CDs, the quality and impact this material has on my everyday teaching is priceless. I would encourage every teacher and student of the trombone to investigate Hip-BoneMusic, incorporate the materials into your teaching and practicing. You will not only be a better trombone player, but even more importantly, you will be a better musician because you did.
Mark L. Lusk
Professor of Trombone, Penn State University
Michael is an artist/clincian for the S.E. Shires and plays the Michael Davis model Shires Trombone.
Commissions
To commission Michael to write a piece for your ensemble: email or call 917.693.4495.
425 Phillips Hill Rd.
New City, NY 10956